A horror-hero team-up for the ages.
A new DC Comics one-shot–Batman/Spawn No. 1–will spotlight the two brutal vigilantes in a great stocking stuffer for any horror fan this Christmas season. The special issue is scheduled to hit stands Dec. 13.
The comic–from Spawn creator Todd McFarlane and artist Greg Capullo–will be the first time the two cloaked crusaders have appeared together for some time. Longtime fans will recall the memorable 1994 crossover, Batman/Spawn: War Devil from the writing trio of Doug Moench, Chuck Dixon and Alan Grant and artist Klaus Janson.
And one of the biggest attractions for this one-shot will be the variant cover rendered by McFarlane. Check out the black-and-white sketch of that cover–courtesy of comicbook.com–on this page.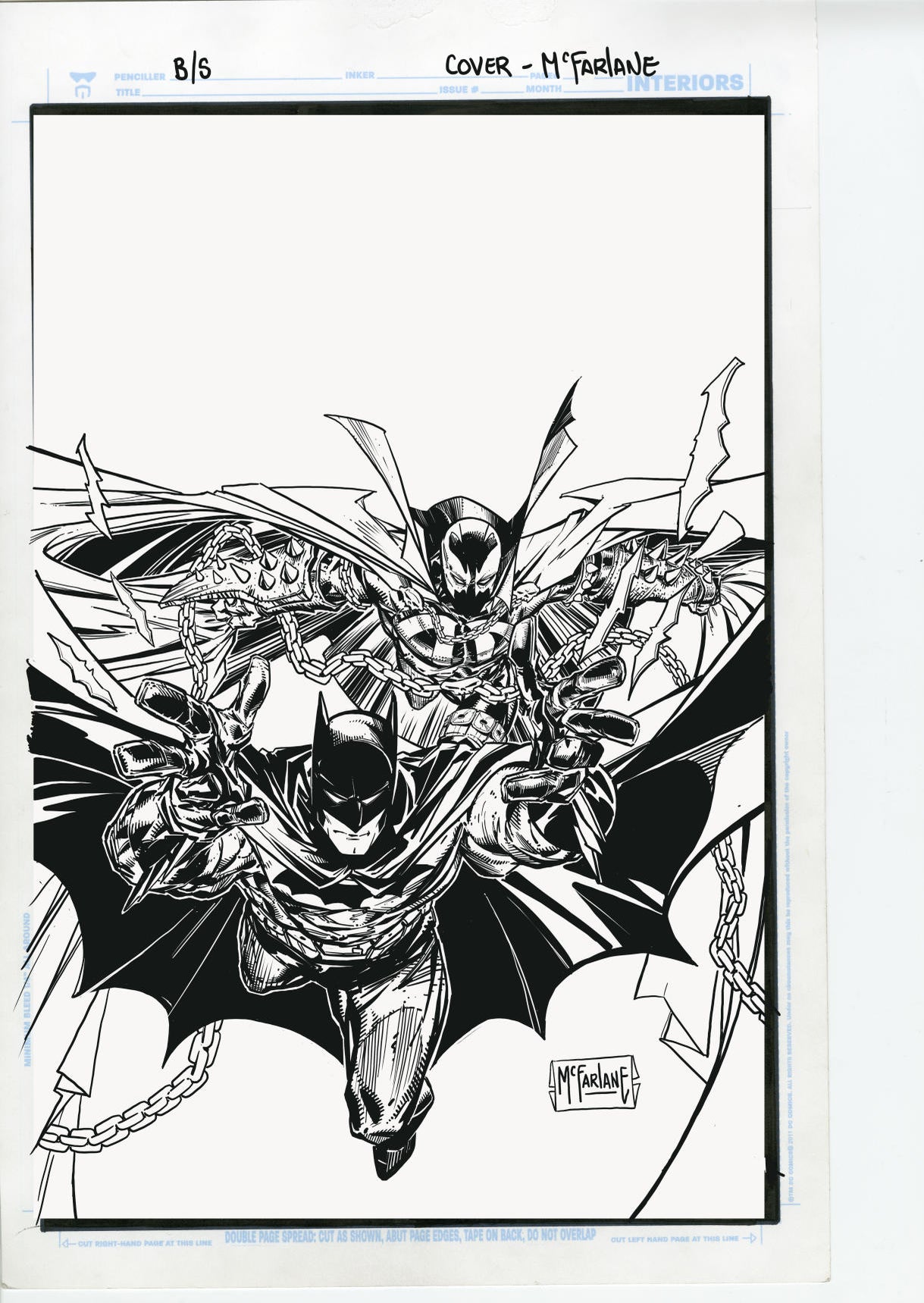 McFarlane pointed out one of the more interesting problems that Batman and Spawn together present for any artist. "The hardest part of doing any cover with two guys who have giant capes is to try not to let those pieces of cloth get in the way of each other, but still making them big enough that you can see it," he said.
"So, if you get too far away, it becomes a cape cover, and if you get too close, it becomes basically a standard superhero cover," he added. "So, your composition matters–especially with two characters whose silhouettes can be fairly similar."
McFarlane said a key component for any cover with Batman and Spawn is that "one guy is red and one guy is blue, and those two pieces of information should never get lost in the clarity. You should be able to read a cover in a heartbeat."
In other Spawn news, the highly anticipated film reboot of the 1997 Spawn is moving along with Oscar winner Jamie Foxx still attached as the lead, and three new screenwriters on board–Scott Silver, Malcolm Spellman and Matt Mixon. McFarlane will not direct the feature (a search is ongoing as of this writing), but he will serve as one of the film's producers.
Keep reading Horror News Network for all updates on the Spawn reboot.