You know the drill–say his name fives times in a mirror. And then run like hell.
The classic 1992 Candyman will come to 4K Ultra HD format (thanks to Arrow Video) May 23. Fans can preorder the release for $40. Check out the array of goodies in this special edition–courtesy of collider.com–on this page.
The 4K restoration limited edition set comes complete with a 40-page booklet that reproduces the film's original storyboards, a reversible poster featuring the film's poster art and new artwork by Gary Pullan.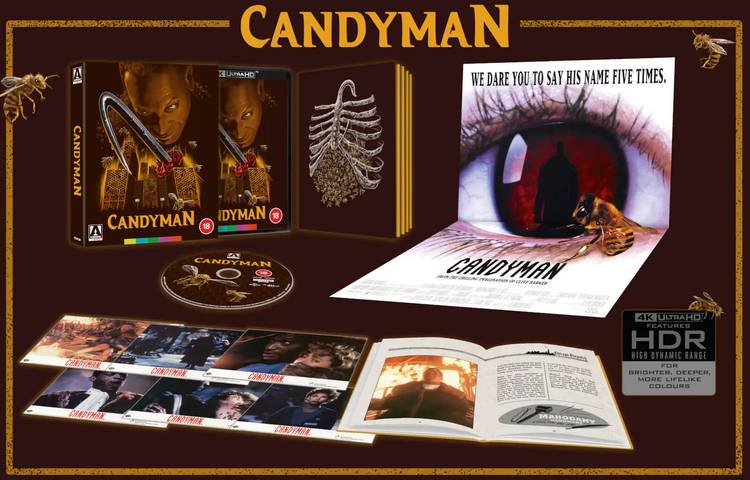 Other special features include: audio commentary from writer/director Bernard Rose and star Tony Todd; Be My Victim, an interview with Todd; It Was Always You, Helen, an interview with Virginia Madsen; The Cinema of Clive Barker, an in-depth interview with the filmmaker; Forbidden Flesh, interviews with special effects artists Bob Keen, Gary J. Tunicliffe and Mark Coulier; and Urban Legend: Unwrapping Candyman, a critical analysis of the film.
The original Candyman–starring Todd, Madsen, Xander Berkeley, Kasi Lemmons and Vanessa E. Williams–was based on Clive Barker's short story The Forbidden. The film follows a Chicago grad student who discovers the urban legend of the Candyman–the ghost of an African-American artist and the son of a slave who was murdered in the late 19th Century.
The film–which earned $26 million on an $8-million budget–was followed by Candyman: Farewell to the Flesh (1995), Candyman: Day of the Dead (1999) and last year's direct sequel.
Keep reading Horror News Network for the latest on the Candyman franchise.