This little girl is having a bad day.
The Exorcist: Believer–the first of three sequels to the 1973 horror classic–will hit the big screen just before Halloween, and a new unsettling image dropped this week. Check it out on this page.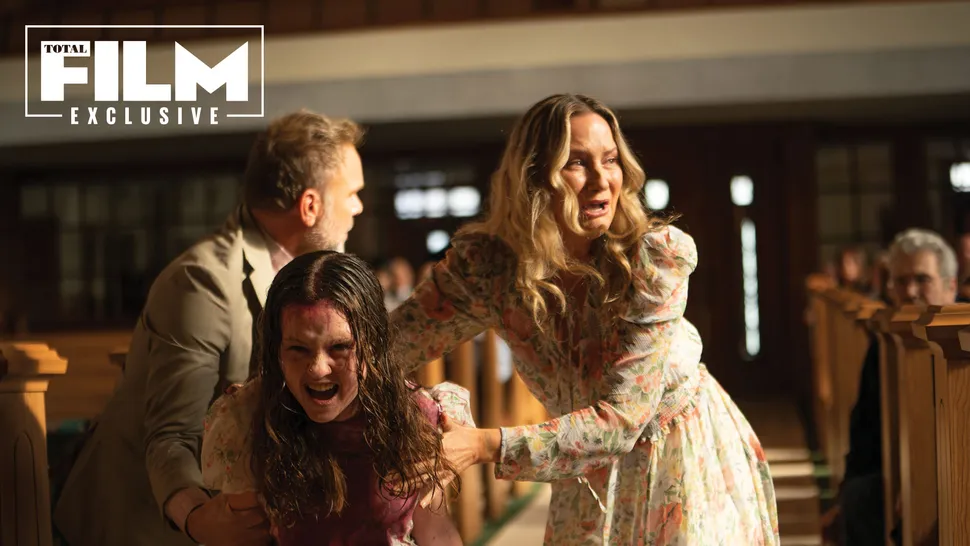 The image from the R-rated Blumhouse/Universal entry–slated for theaters Oct. 13–shows a young girl named Katherine (Olivia Marcum) who's apparently suffering from demonic possession inside a church. Shown trying to restrain the girl are her parents–played by Jennifer Nettles and Norbert Leo Butz.
The film–directed by David Gordon Green from a screenplay he wrote with Scott Teems, Danny McBride and Peter Sattler–follows Victor Fielding (Leslie Odom Jr.), who has been raising his daughter Angela (Lidya Jewett) alone since his wife's death 12 years ago.
But, when Angela and her friend Katherine (Marcum) disappear in the woods–and return three days later with no memory of what happened–it unleashes "a chain of events that forces Victor to confront the nadir of evil, and to seek out the one person who has witnessed anything like it before: Chris MacNeil (Ellen Burstyn),"
Getting Burstyn to reprise her iconic role after a half-century has a story all its own. "I read her biography," Green said, "and it became a mission to invite one of Hollywood's icons to step into this role she hasn't been in for 50 years."
The director said the inspiration Burstyn's book gave him was "her perspective after the movie, and the success of the movie. And also the obstacles and hardships that were faced–because of the notoriety of the film."
Keep reading Horror News Network for the latest on The Exorcist: Believer.