Horror times two.
The Exorcist: Believer–the first of three planned sequels to the iconic 1973 horror film–will hit theaters this fall, and a new chilling image dropped this week. Check out the photo–courtesy of Empire Magazine–of two eerie possessions.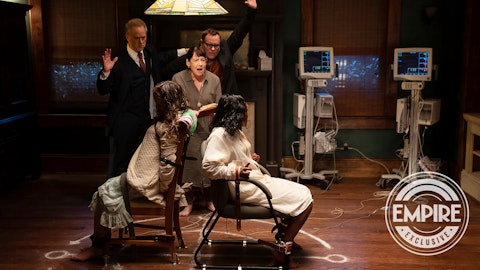 The Blumhouse/Universal flick–headed to the big screen Oct. 13–comes from director David Gordon Green (the recent Halloween trilogy), who also wrote the screenplay with Scott Teems, Danny McBride and Peter Sattler.
Green recently compared his Halloween films with this Exorcist sequel, telling Empire that the Halloween films "are in the slasher genre. They're a place to play and have some campy fun."
But The Exorcist: Believer "was more researched and a bit academic," Green said. "The narrative and the relationships we were sculpting were more dramatic. It's a very different approach."
In this sequel, Victor Fielding (Leslie Odom Jr.) is raising his daughter Angela (Lidya Jewett) alone since his wife's death, but–one frightening day–Angela and her friend Katherine (Olivia Marcum) disappear in the woods.
The two girls return three days later–with no memory of what happened to them–and then a chain of events forces Victor "to confront evil, and find the one person who has seen something like this before: Chris MacNeil (Ellen Burstyn)."
Keep reading Horror News Network for the latest on The Exorcist: Believer.