Claire Dearing is up to her neck in trouble.
The first image from Jurassic World: Dominion–appearing in this week's issue of Total Film magazine–gives fans an idea of the terrors awaiting the characters in this film. Check out the photo on this page, courtesy of comicbook.com, for a sneak peek at the movie slated to hit theaters June 10, 2022.
In the image, it appears that Bryce Dallas Howard's Claire Dearing character plunged into a pool of nasty water to escape the clutches of a prehistoric predator seen in the background. Only the monstrous feet of the dino are visible, but that's more than enough.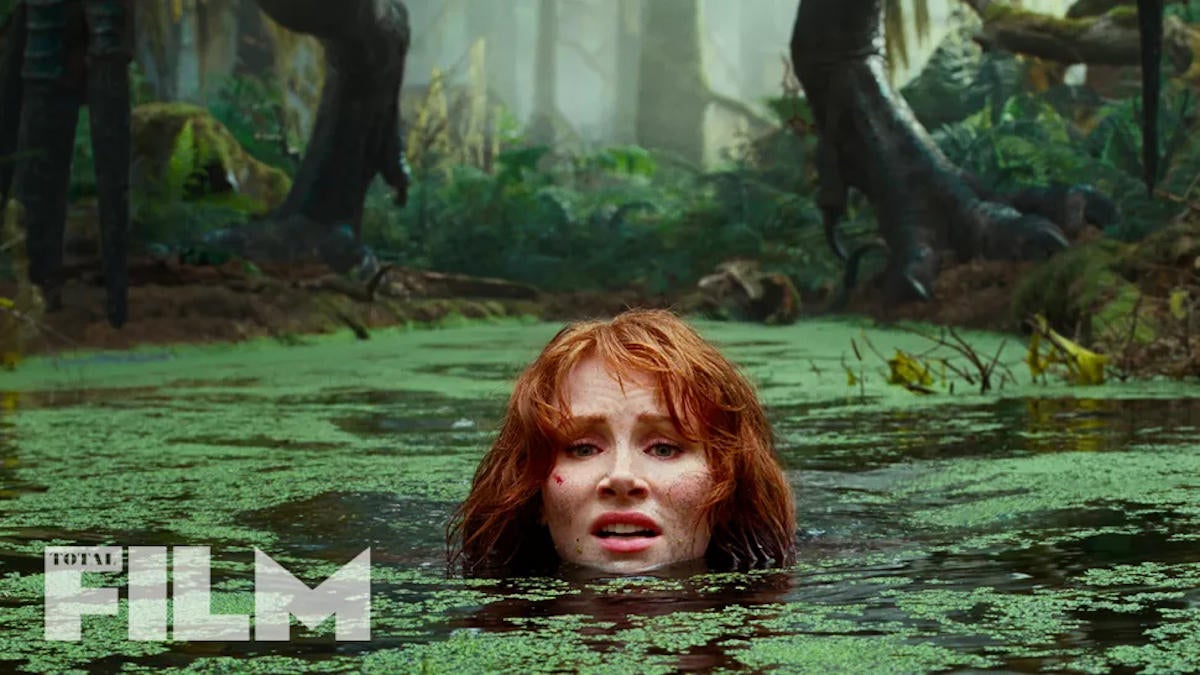 (Photo: Universal Pictures (via Total Film))
Joining Howard on her treacherous trek are fellow cast members Chris Pratt, Omar Sy, Mamoudou Athie, DeWanda Wise, Daniella Pineda, Justice Smith, Jake Johnson, Scott Haze, Campbell Scott and Dichen Lachman–as well as the returning trio of Sam Neill, Laura Dern and Jeff Goldblum from Jurassic Park.
Director Colin Trevorrow stressed that the film is a "true ensemble. Laura, Sam and Jeff have as much screen time as Bryce and Chris do. They're not together the entire time, but we are following both of their stories equally–and you have a sense they're going to collide at a certain point."
Trevorrow also called Dominion a "rare film. It is so different from anything I've ever seen before. I didn't know what to watch as inspiration. I watched a lot of nature documentaries. The movie does rely on the animals acting and reacting in ways that feel natural."
Dominion–directed by Trevorrow from a screenplay he wrote with Emily Carmichael–is a collaboration between Universal Pictures and Amblin Entertainment. The producers include Trevorrow, Steven Spielberg, Frank Marshall and Pat Crowley.
Keep reading Horror News Network for more updates on Jurassic World: Dominion.