The hype is finally over. Let the screaming echo from movie theaters everywhere.
By now, horror fans have enough Scream posters to wallpaper their bedrooms (and maybe the living room, too), but one, final poster–courtesy of screenrant.com–has appeared just days before the film's release. Check out the retro design–complete with Ghostface, lightning crackling in the background and a terrified Sidney Prescott–on this page.
The new poster–from Creepy Duck Design–has all the proper horror elements: the always-frightening Ghostface, the obligatory bloody knife, the ultimate "last girl" and the iconic "It's always someone you know" slogan.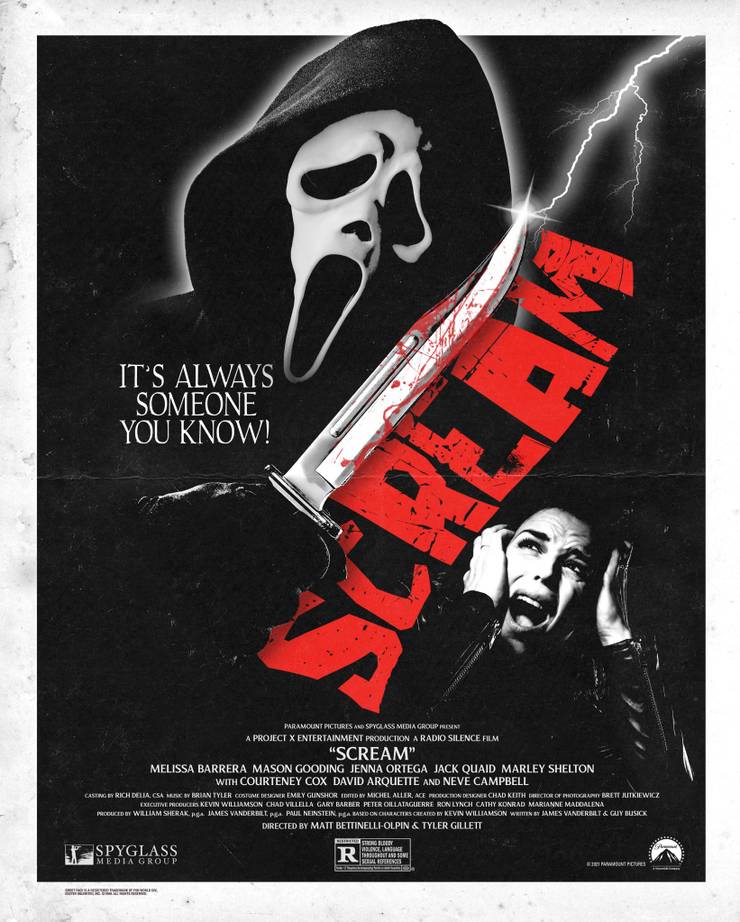 The new Scream–landing in theaters Friday, Jan. 14–is directed by Matt Bettinelli-Olpin and Tyler Gillett from a screenplay by James Vanderbilt and Guy Busick. The fifth entry in the classic franchise picks up 25 years after those first horrific murders in Woodsboro, but now, a new killer wears the Ghostface mask and is targeting a group of teenagers "to resurrect secrets from the town's deadly past."
The Paramount Pictures film brings back legacy actors Neve Campbell, Courteney Cox, David Arquette and Marley Shelton, along with newcomers Melissa Barrera, Kyle Gallner, Mason Gooding, Mikey Madison, Dylan Minnette, Jenna Ortega, Jack Quaid, Jasmin Savoy Brown and Sonia Ammar.
The original 1996 Scream–directed by Wes Craven from a screenplay by Kevin Williamson–follows high school student Sidney Prescott as she is stalked by the murderous Ghostface. The film earned $173 million on a $15-million budget and started a franchise that has already raked in more than $600 million worldwide.
Keep reading Horror News Network for our review of the new Scream.