Going once…going twice…Heeeere's Johnny!
One of the most iconic props in the annals of horror cinema–the axe wielded by a deranged Jack Nicholson in 1980's The Shining–is currently up for auction from Gotta Have Rock and Roll. Check out the photo–courtesy of screenrant.com–showing what the successful bidder will walk home with.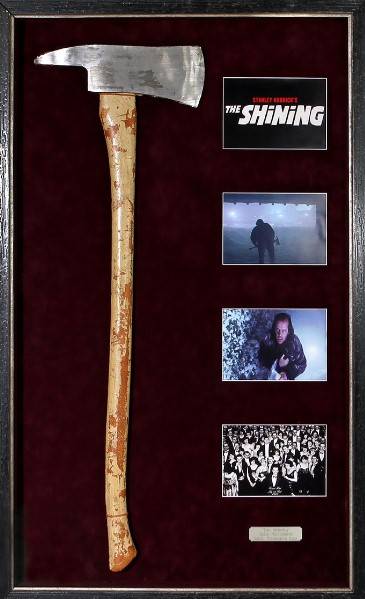 Naturally, that winning bidder will also have empty pockets on that trip home. The auction opened with a $50,000 bid on the prop axe, soon reached $60,000 and is expected to crest at upwards of $90,000 when the bidding winds down in about a week.
The deadly-looking prop comes with a certificate of authenticity and a letter from Norank Engineering as proof of its use in the film. The axe itself sports a scuffed blade and handle (it's not easy chopping through a bathroom door), and it's displayed in a shadow box frame with select images from the classic movie–including the film's title, Jack Torrance in the hedge maze and the final party photo from the ending.
The Shining–directed by Stanley Kubrick from a screenplay he wrote with Diane Johnson (and based on Stephen King's 1977 bestseller)–stars Nicholson, Shelley Duvall, Scatman Crothers and  Danny Lloyd.
The familiar storyline follows aspiring writer Jack Torrance (Nicholson), his wife Wendy (Duvall) and young son Danny (Lloyd) as they move into the isolated Overlook Hotel in the Colorado Rockies when Jack lands a job as the off-season caretaker.
Danny is gifted with "the shining", a psychic ability that lets him see into the hotel's horrific past. And when a severe winter storm leaves the family snowbound, Jack's sanity slips away due to the influence of the supernatural forces in the hotel.
Generally regarded now as one of the greatest horror movie ever, The Shining received mixed reviews at the time of its release. In fact, King criticized the film due to its deviations from his novel.
Keep reading Horror News Network for any updates on the bidding on the famous axe from The Shining.